Top 10 reasons why you should visit Yosemite this spring! Best things to do & see in Yosemite in spring
1. Yosemite Valley Visitor Center: Dozens of Yosemite known, and hidden waterfalls are roaring at maximum flow with double rainbows at the base of some of these spectacular waterfalls.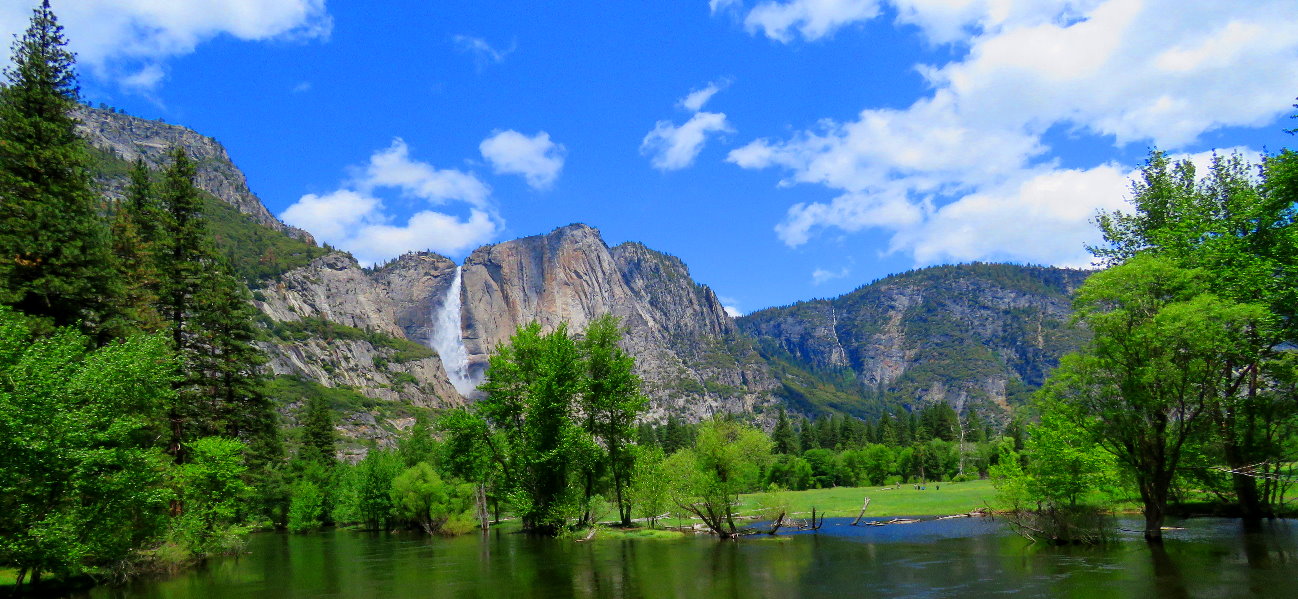 2.Pleasant weather conditions : While Yosemite waterfalls are at their peak, the weather is wonderful. Photographers come to visit from all over the world to capture the majestic beauty of Yosemite natural landscape in spring with beautiful blue skies.

3. Flowering plants bloom during springtime : Yosemite trees and wildflowers are blooming in the Yosemite Valley and in the meadows. Yosemite wilderness in spring is unique and spectacular.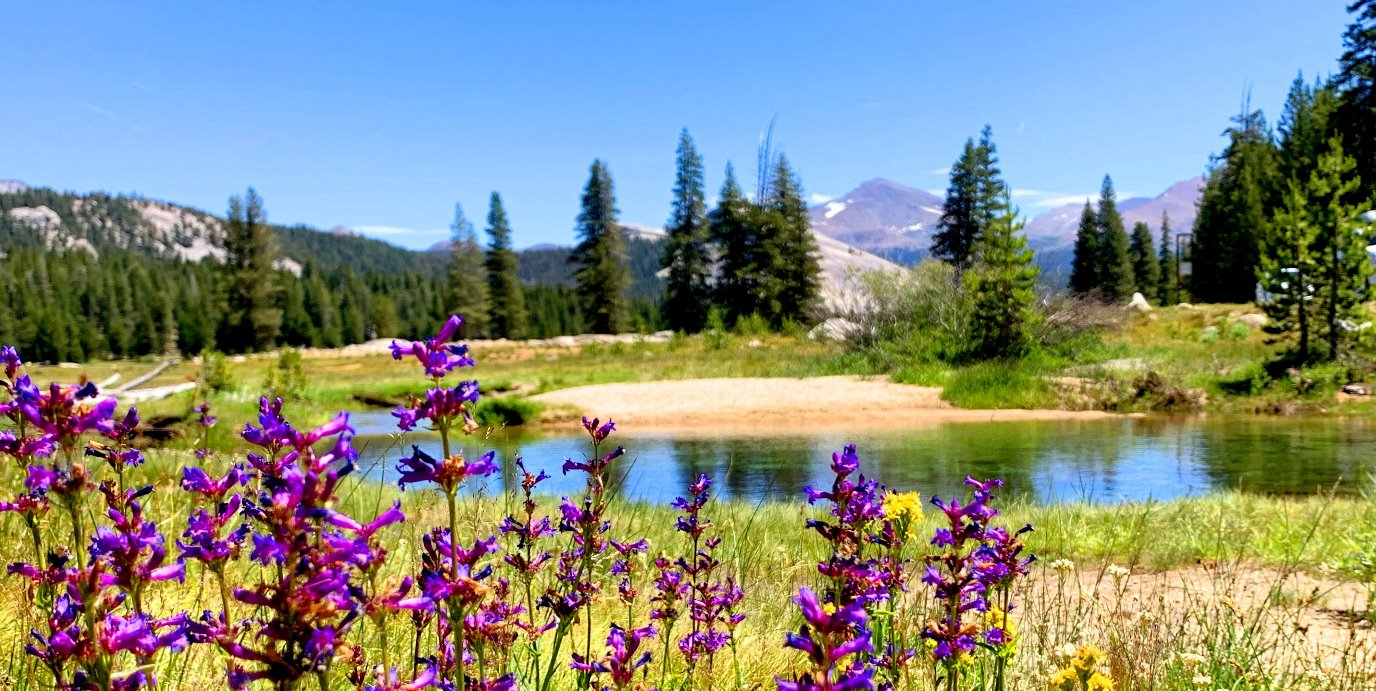 4.Yosemite Wildlife : Flowers are blooming, birds are singing, and Yosemite wildlife is moving! There is a fantastic wildlife to see during the spring season in Yosemite National Park. Many species that live in the Yosemite National Park including mountain lions, coyotes, bobcats, deer, foxes, and bears start coming out. In spring, hibernating animals — like bears wake up and can be seen in and around the Yosemite National Park. Yosemite Valley is the ideal place to spot wildlife because it's on lower elevation and less cold than the high country.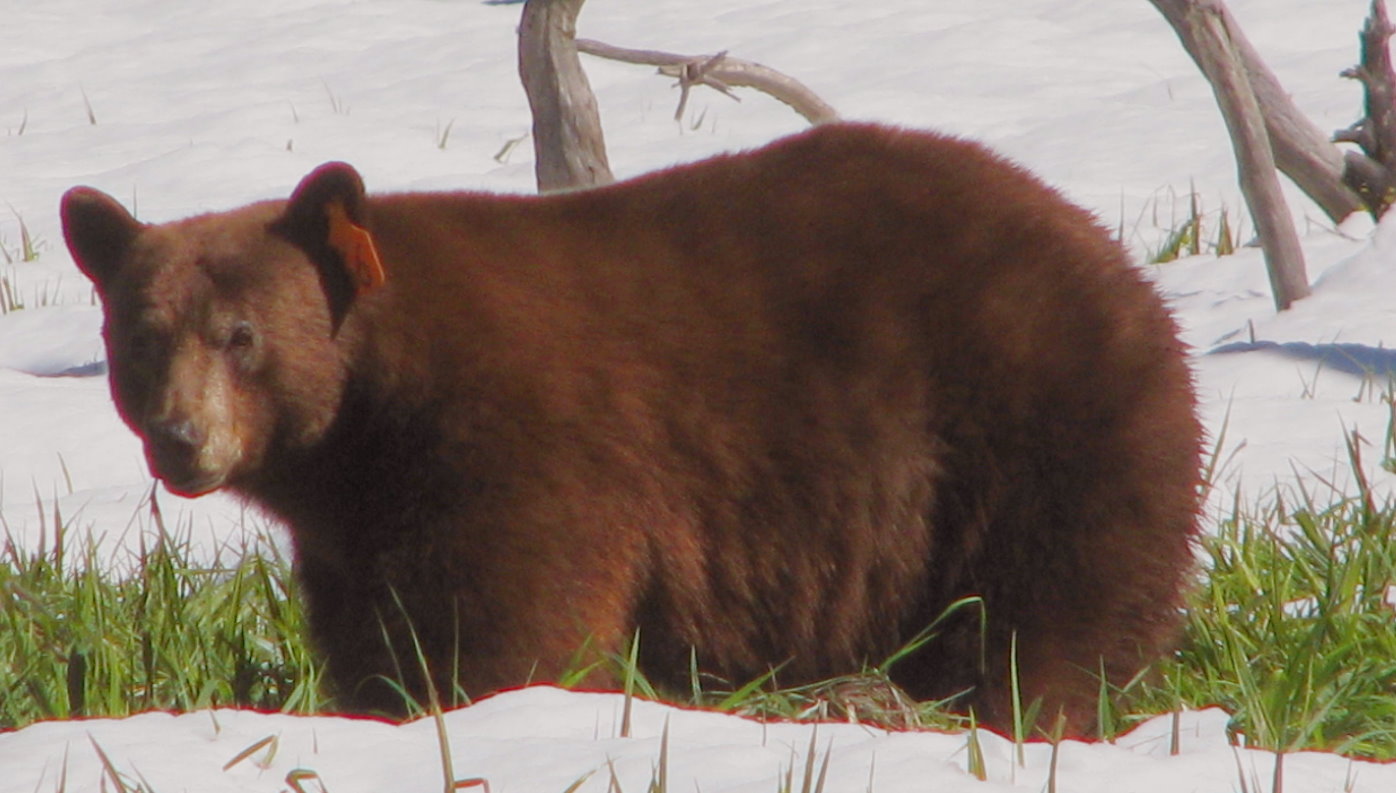 5.Crowd and traffic : Another thing to consider while visiting Yosemite National Park in the spring is the crowds. While summer is by-far the busiest season in Yosemite, especially in the Yosemite Valley, Spring and Fall on the other hand are the less crowded season in Yosemite. The crowds are thin, and traffic is good unlike the summertime.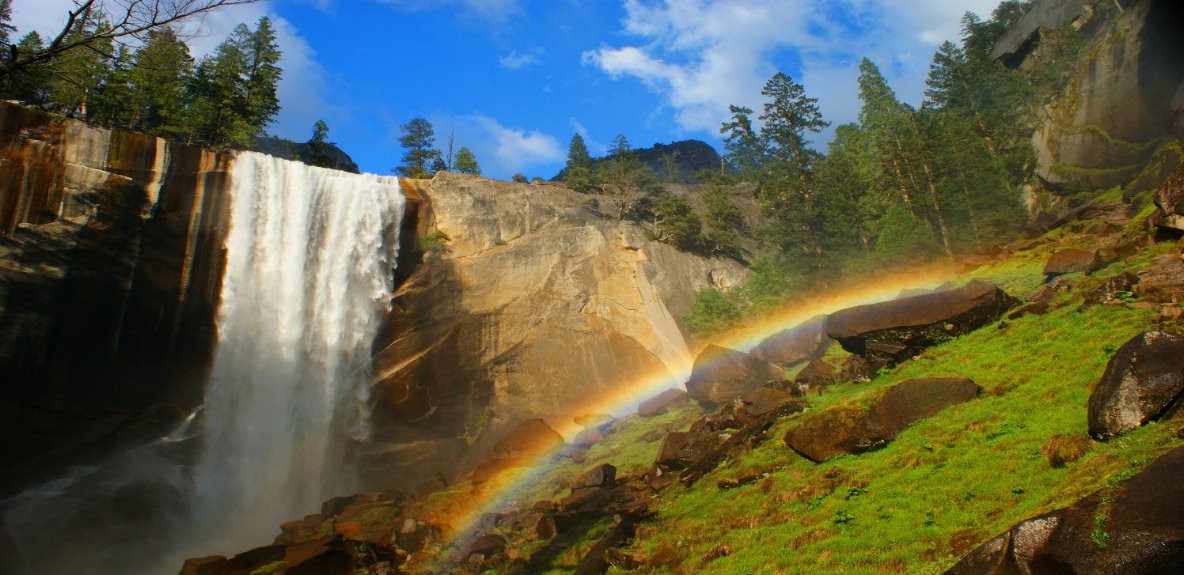 6.Photography : Professional photographers who travel to Yosemite love the spring season — it offers them the perfect lights, contrast, nuance, and deep and clear details of the landscape. Many layers constitute the perfect settings for photography; the waterfalls are at their peak in the background, the green meadows filled with wildflowers offering a beautiful perspective in the foreground. The white clouds add more nuance and contrast under majestic blue skies — these scenes emphasize and enhance the perception of depth in the photographs. What a wonderful treat for nature lovers Photographers?

7.Spring travel deals and savings: Airfares and hotels,lodges, and resorts in Yosemite National Park offer good deals in the spring. However, advance booking is recommended as Yosemite hotels, motels and resorts are often booked up months in advance. Some hotels like the Yosemite lodge by the falls are even booked up 12 months in advance!
8.Hiking and Biking : Spring is probably the best season for biking, golfing, fishing, hiking, and walking in the Yosemite meadows and wilderness because the trails are less crowded. The temperature and weather conflation are ideal for hiking, biking and walking in the spring and backpacking trips are even more enjoyable with crispy cool mornings but pleasant warm days.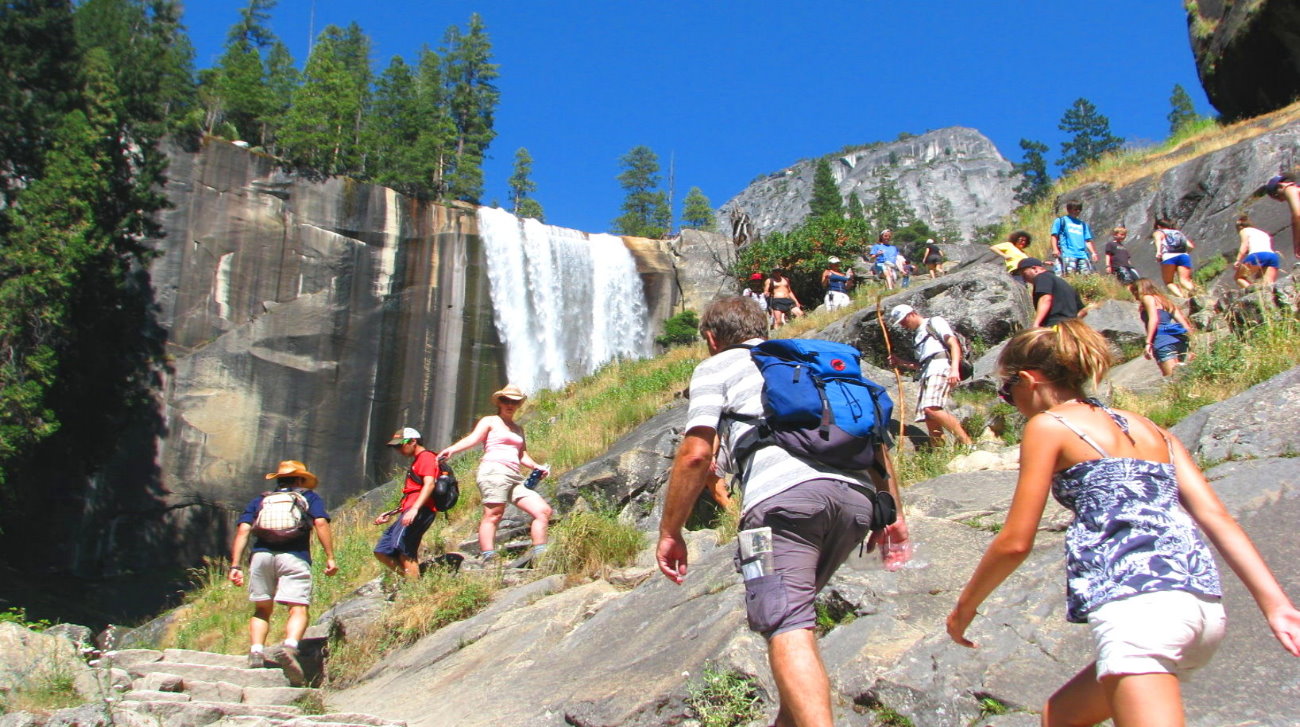 9.Best time for whitewater rafting outdoor adventures : Every traveler, adventurist and thrill-seeker know that raging California rivers are awesome great waters for rafting. Spring also brings higher river levels which makes spring the ideal time and best season for whitewater rafting outdoor adventures. Whether you are a beginner, first-time visitor or a pro, river kayaking and whitewater river rafting in the Merced River in Yosemite Valley or in the Tuolumne River offer the prefect conditions for families and for all ages. For rafting and outdoor activities, late May to late June, springtime runoff from snowmelt makes for the most exciting time of rafting season.

10.Let's Go Fishing! A good time to fish in the Yosemite National Park is after the peak snow runoff in late April to early July. Yosemite National Park is a popular place for sport and fly fishing. Most anglers catch varieties of trout. Yosemite National Park has picturesque lakes, gorgeous rivers and streams with prime fishing spots that are home to a variety of fish including crappie, brown, golden, brookies and rainbow trout, and trout stream fishing is probably your best bet in the summer. Yosemite National Park has 58 permanent streams with a combined length of 770 miles. The Merced River that runs through the Yosemite Valley offers enjoyable fishing all summer and even into the fall.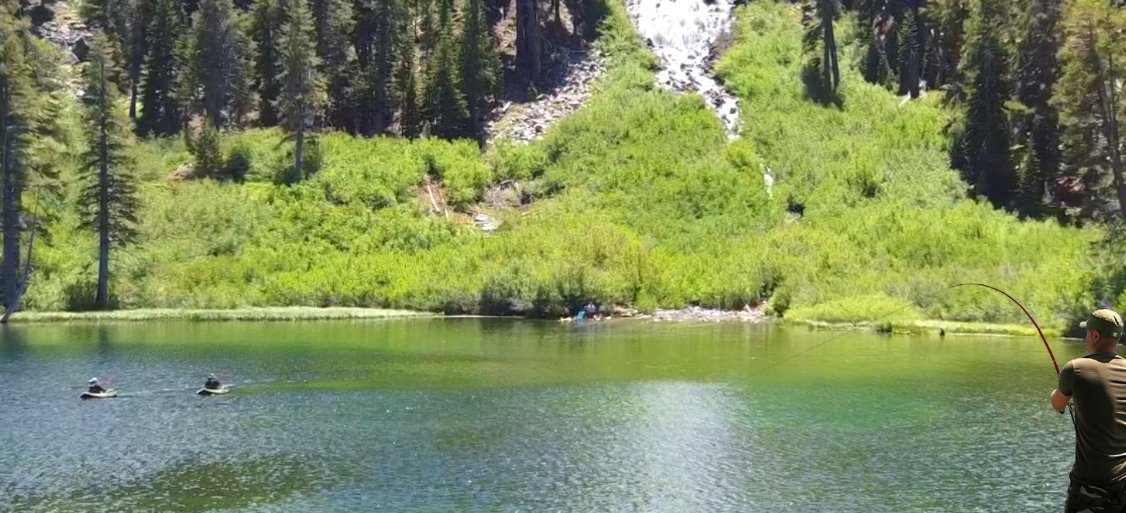 Tip of the Day:
Don't forget to reserve your hotel room and entrance tickets before you travel to Yosemite National Park! The pandemic has changed the way national parks operate and they do require advance booking even for driving through the park.Be sure to book your hotel or camping and your entrance tickets / reservation to Yosemite National Park before you travel to California and Sierra Nevada Mountains.
If you are looking for a hassle-free road trip and worry-free travel package, we recommend hiring a professional local tour company that offers private custom tours with hotel accommodation included. This kind of worry-free tour packages will save you time, money, and all other issues like sold out hotels, Yosemite National Park reservations, road closures, the fire season detours and other issues.