Yosemite Top 10 Attractions
Best Things to See & Do in Yosemite National Park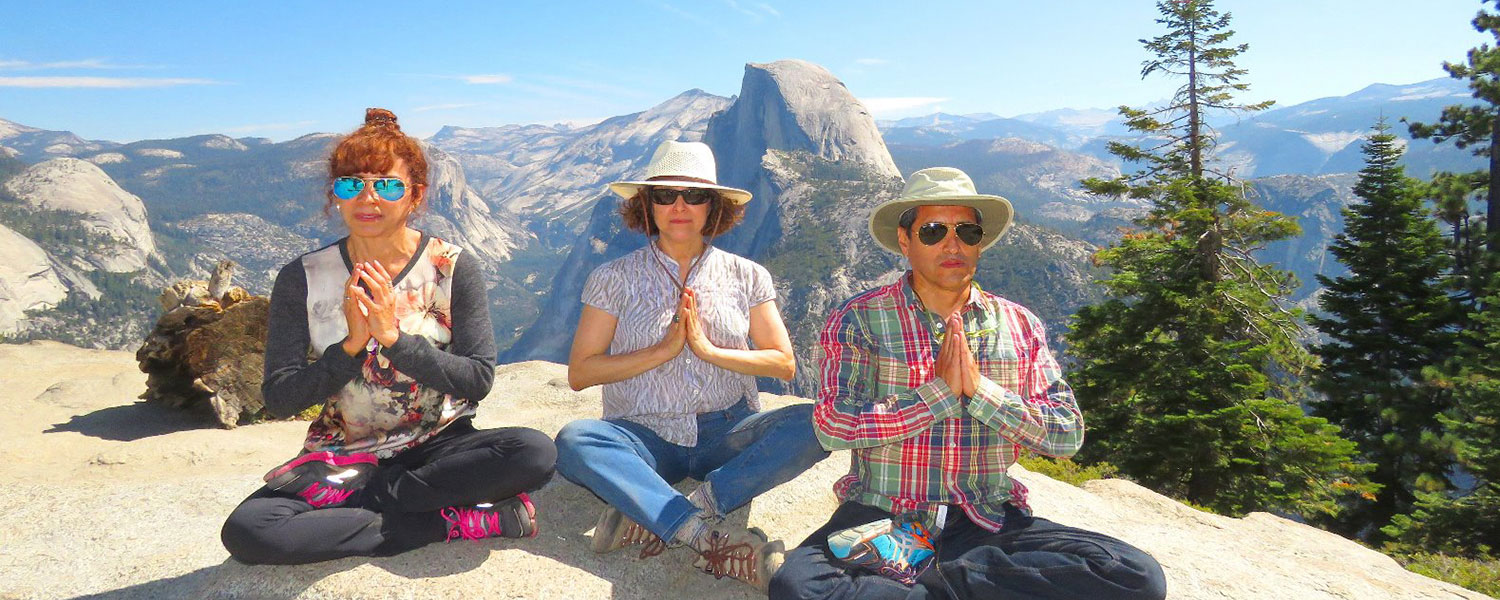 Yosemite National Park is a World Heritage Site known for its extensive geographic boundaries, and the Yosemite Valley represents only 1% of this huge wilderness. A shorter trip might not be enough to experience all the wonders of Yosemite, as a lot of time is wasted on driving 5 hours each way from and back to San Francisco, your hotel or pick-up location. Rather book this 5-day and 4-night tour and ultimate wilderness experience with hotel accommodation included - the real escape and eco-adventure to California's best-kept natural wonders and iconic sights and parks, including the Sierra Nevada wilderness.
Immerse yourself in the beauty and serenity of Yosemite National Park and Sierra Nevada natural wonders and visit iconic sights, parks, museums, and hidden natural wonders.
1. Yosemite Valley: Yosemite Valley is a glacial valley in the heart of Yosemite National Park , in the western slope of the Sierra Nevada mountains of California. Yosemite Valley is about 7.5 miles (12 km) long and approximately 3000–3500 feet deep, surrounded by giant and massive cliffs high granite summits such as Half Dome and El Capitan. The famous Merced River flows west through the Yosemite Valley fed by multitude of streams and waterfalls that flow into the valley floor, including Bridalveil fall , ribbon fall (seasonal) Yosemite Falls (is the highest waterfall in North America and is a big attraction especially in the spring), Tenaya and Illilouette and Vernal Falls.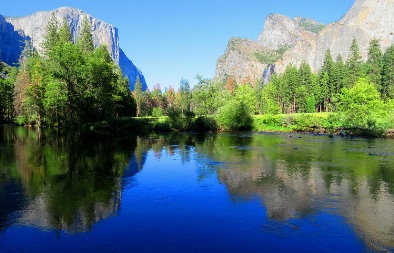 The valley is the main attraction for visitors and is recommended for travelers who have limited time. The top attractions and things to see or do in the Valley floor include but not limited to places like Yosemite Valley falls , Bridalveil fall, overlooks including Tunnel View, trails such as Yosemite falls hike and sightseeing of natural wonders like the Merced River vista points and massive granite domes like Half-Dome, Cathedral Rocks and El Capitan.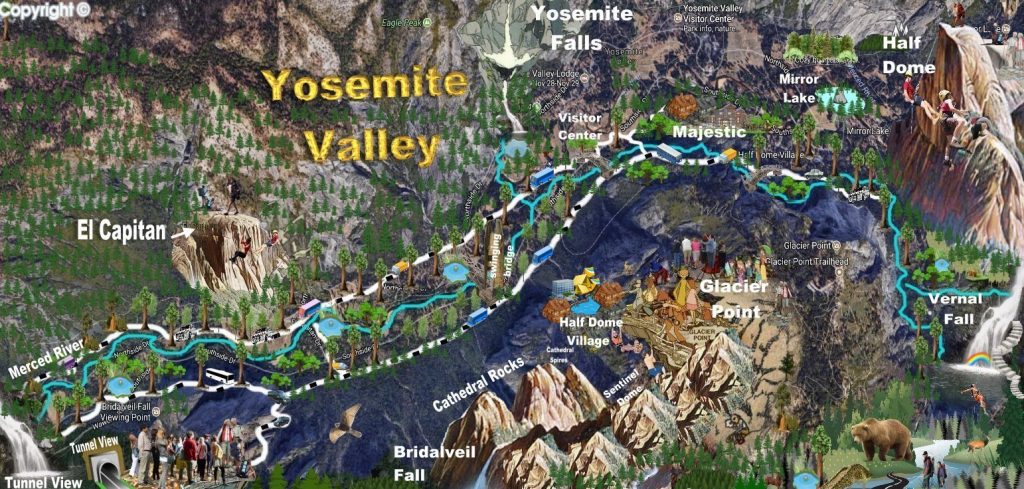 I also recommend visiting the Yosemite Valley Visitor Center and museum, the Indian Village of the Ahwahnee, Ansel Adams Gallery and Curry Village.
If you can spare an extra hour, take a short hike to Mirror Lake, it's a must-see for its beautiful reflections of Half Dome but it's seasonal(spring and early summer).
There is so much to see in Yosemite Valley, the longer you stay the better.
2. Glacier Point: Located on the south wall of Yosemite Valley, Glacier Point offers spectacular views of the Yosemite Valley, Half Dome, Vernal and Nevada Waterfalls.
If you can make it, sunrise and sunset are the best times to go. From Glacier Point, visitors can enjoy stupendous and sweeping views that stretch out over the Yosemite Valley hanging cliffs, domes, including Half-Dome, and the stunning high country. Glacier Point road is only open to vehicles in summer from May through October (but this may vary based on weather and road conditions).
The Glacier Point Road, which provides the only access by car to these hikes, usually opens around late May or early June, depending on conditions. Once the road opens, trails can remain wet and/or snowy for a few to several weeks. The Glacier Point Road usually closes sometime in November.
From mid-May to September, you may be required to use a free shuttle from Badger Pass to Glacier Point between 10 am to 4:30 pm when the Glacier Point parking lot fills. If you arrive at the Badger Pass turnoff before 10 am or after 4:30 pm, you can drive to Glacier Point (and all trailheads). If you arrive between 10 am and 4:30 pm and the Glacier Point parking lot is full, rangers will have you park at Badger Pass and use the free shuttle to get to Glacier Point or other locations along the Glacier Point Road. Parking is available at Badger Pass for RVs and trailers, but not for full-sized commercial buses.
3. Yosemite National Park Giant Sequoias: Yosemite National Park is home to three groves of sequoias , they are impressive ancient giant sequoias you got to see them to believe how massive they are. The most easily accessible of these (spring through fall) is the Mariposa Grove near the park's South Entrance, off of the Wawona Road (Highway 41). Two smaller—and less visited—groves are the Tuolumne and Merced Groves near Crane Flat.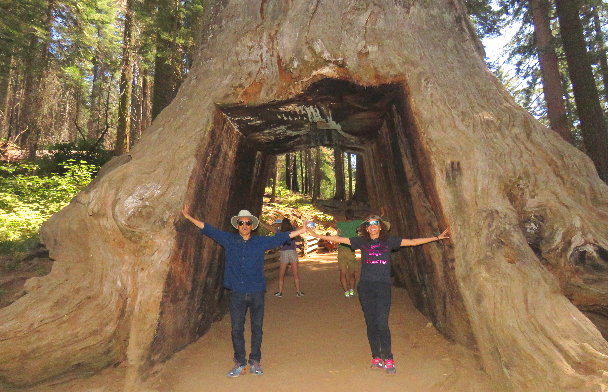 A-Mariposa Grove: Located near the South Entrance of Yosemite, Mariposa Grove is the largest grove of sequoias in the park and is home to over 500 mature giant sequoias. During much of the year a free shuttle is required for use between the Mariposa Grove Welcome Plaza and the Mariposa Grove. There is a variety of trails from easy to strenuous within the grove, as well as some accessible trails. Restrooms are located at the Mariposa Grove Welcome Plaza and areas within the grove. Drinking water is available only at the welcome plaza (year-round) and arrival area (summer only) so plan accordingly. The drive takes approximately 1 hour and 15 minutes from Yosemite Valley.
B-The Tuolumne Grove of Giant Sequoias –  Tuolumne Grove is a sequoia grove located near Crane Flat in Yosemite National Park, it's about 16 miles (26 km) west of Yosemite Village on Tioga Pass Road. The grove contains many conifers, including a few Sequoiadendron giganteum as well as fir trees, cypress, cedar, dogwoods, and oak trees. While smaller than the Mariposa Grove; the Tuolumne Grove is less visited and provides a more secluded experience. However, when the other groves are closed, this can be very crowded, so go early!
Hiking to the Tuolumne Grove:  Looking for a nice, tranquil, easy hike to see some mind-blowing trees? The entire hike to this grove is downhill but harder on the way up, still doable even for beginners. It takes about 75 to 120 minutes complete this 2.5 miles (4 km) round trip. The grove features a Dead Tunnel Tree which can be walked through, a fallen sequoia and other many giant and old sequoias still standing in the grove.
C- Merced Grove: Located on the Big Oak Flat Road east of Big Oak Flat Entrance and approximately 6 miles west of Crane Flat, the Merced Grove has about two dozen mature giant sequoias. Sequoias are only visible after a 1.5-mile hike with 500 feet of elevation loss. (The 1.5-mile hike back to the parking lot gains 500 feet and is strenuous.) Water is not available; bring drinking water for everyone in your group who will be hiking this trail. The drive takes about 45 minutes from Yosemite Valley. Parking is extremely limited.st living organisms in the world.

4. Washburn Point Overlook: Washburn is often confused with Glacier Point. This is the overlook on the way down to Glacier Point. This incredible commanding alpine overlook rises above 7,500 feet (2,280 meters), and offer amazing views of Half Dome, Illilouette Falls Staircase consists of Nevada and Vernal Falls. Glacier Point Road is accessible via Wawona Rd but is closed from November through May (which may vary based on road and weather conditions).
5. Vernal and Nevada Falls: This is the most scenic hike in Yosemite but can be challenging. This hiking trail will take you to the base of Vernal Falls, 317 feet (97 meters) waterfall, located on upper Merced River, just downstream of Nevada fall.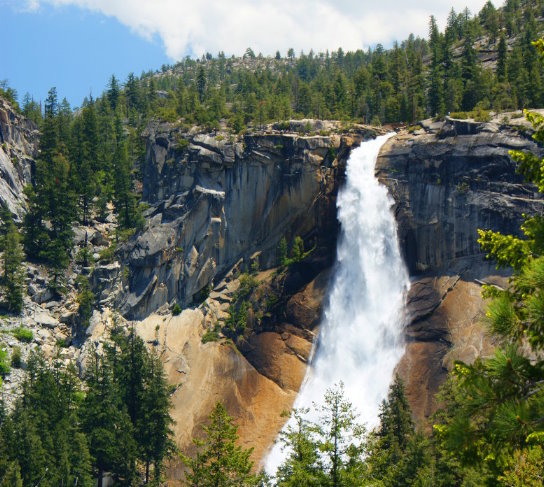 The waterfall runs all year long, although by the end of summer it is substantially reduced in volume and can split into multiple strands, rather than a single curtain of water. Your tour guide will start this 1.6 miles (2.6 km round-trip) hike from and back to Happy Isles, down in the valley floor. The trail climbs up and takes about an hour before you get to a wooden bridge where you can picture Vernal Fall from half mile away from the waterfalls. As the Mist Trail and the John Muir Trail diverge, follow your tour guide on the Mist Trail up on a steep granite stairway of almost 600 steps (if you decide to go all the way to the top). Prepare for slippery footing and a tremendous amount of waterfall spray in spring and early summer where a magnificent rainbow can often be seen at the base of Vernal Falls. This portion of the trail is closed in winter due to risk of snow and falling rocks.
6. Tunnel View: is a scenic viewpoint overlong Yosemite Valley and Bridalveil fall. El Capitan and Half-Dome. All visitors have seen and documented the iconic and expansive views of Yosemite Valley from the overlook since its opening in 1933.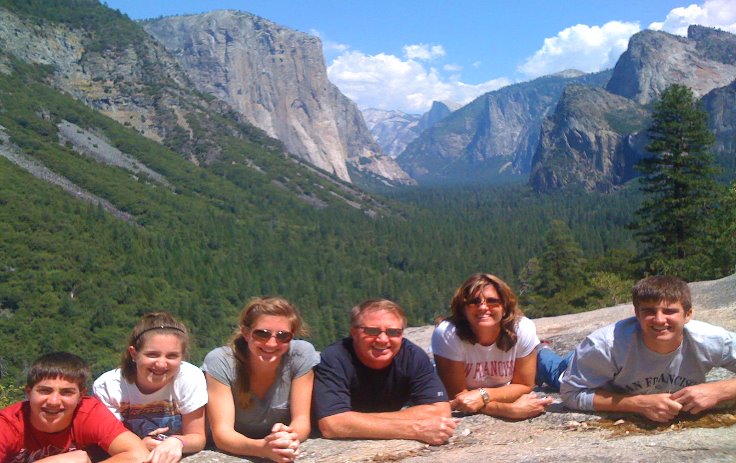 Internationally renowned artists to casual tourists have painted, drawn, and photographed the dramatic scenery from here and nearby vantage points since the 19th century. This turn out with parking lot accommodates leaving vehicles behind, to take it all in. The trailhead, for the hiking trail up and south to Inspiration Point, is located here.
7. Tioga Road and Tuolumne Meadows:  Tioga Road is a part of California State Route 120, in Mono County in Yosemite. A beautiful Alpine drive, it climbs above Yosemite Valley, transporting travelers to breathtaking views , subalpine meadows, and pristine lakes. Tioga Road is the Yosemite's highest, peaking at 10,000 feet high. The portion of Tioga Rd is seasonal and closed from November until May/June due to heavy snowfall.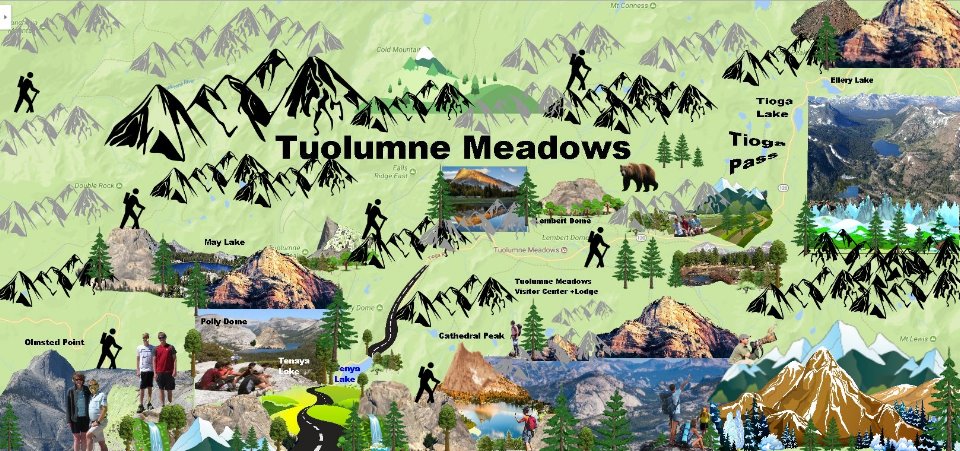 Tuolumne Meadows is home to gorgeous alpine lakes such as Tenaya Lake, rivers including the Tuolumne River, waterfalls and impressive granite domes including Cathedral Range, Lembert Dome and Mount Dana where rock climbers meet. This scenic road to the high-country offers endless photo opportunities and exceeds visitors' expectations!

In Tuolumne Meadows, you can walk, hike and stop to photograph stunning alpine lakes like Tenaya Lake, Tioga Lake, Ellery Lake and Tioga Pass that towers above 9,943 ft. This back road offers spectacular stops and overlooks along the way - Olmsted Point is the best overlook and viewing area of Tioga Pass Road. You view south into Tenaya Canyon, giving, in particular, a view of the northern side of Half Dome, Clouds Rest, and a view of Tenaya Lake to the east.
8. Yosemite Valley Visitor Center and Museums : The Yosemite Valley Visitor Center has an exhibit hall that features exhibits about the park's geology, history of Yosemite , wildlife, Native American and settlers. This Year-round facility offers travelers and visitors to Yosemite national Park useful information, guidance, maps and brochures, nature exhibits, a bookstore and an educational movie theater about Yosemite National Park history, geology, and biology.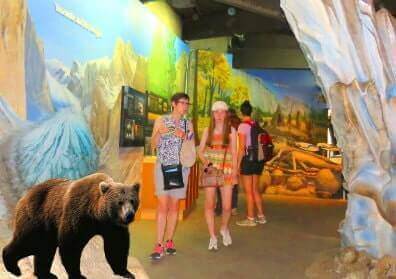 Yosemite Valley visitor center is located at 9035 Village Dr, Yosemite Valley, CA 95389. The museum and visitor center are open daily from 9 am to 5 pm (winter and holiday schedules might differ, so ensure to call before you head there (209-372-0200). Yosemite Valley Visitor Center has an exhibit hall, where you can learn how Yosemite's spectacular landscape was formed, how people have interacted with it through the centuries, how wildlife adapts and survives and how the national park system continues to evolve. There is also a movie theater with a free 23-minute film providing a stunning overview of Yosemite history , geology and biology.
Yosemite Valley Wilderness Center and Museum (open May to October) offers wilderness permits, bear canisters, maps, and guidebooks. Information on pre-trip planning, minimum impact camping and the Yosemite Wilderness, is also available.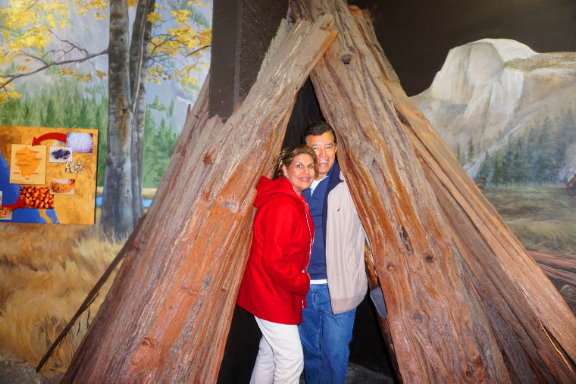 Yosemite Museum  (all year): The Indian Cultural Exhibit and Village interprets the cultural history of Yosemite's native Miwok and Paiute people from 1850 to the present. Demonstrations of traditional skills are presented. The Gallery offers art exhibits periodically throughout the year.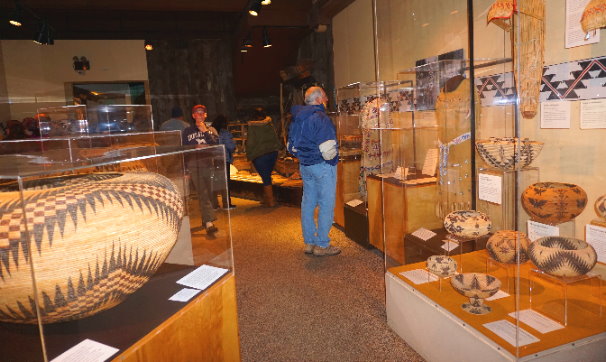 Nature Center at Happy Isles (May to September): Designed for nature-exploring families, this center offers natural history exhibits, and interactive displays. Nearby are short trails through the area's forest, river, and fen environments. Evidence of the huge 1996 rockfall from the Glacier Point cliff is visible above.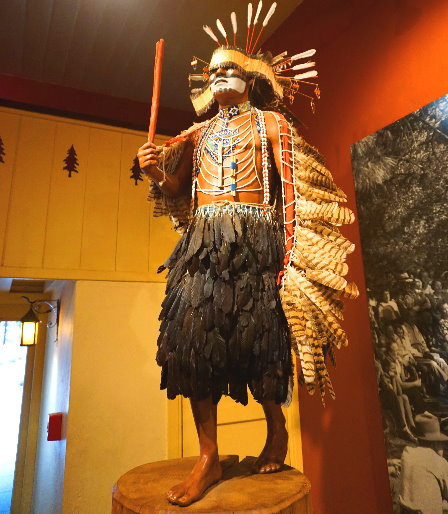 Yosemite Conservation Heritage Center, formerly Le Conte Memorial Lodge (late May to early September): Yosemite's first public visitor center, operated by the Sierra Club, features a children's corner, library, and a variety of environmental education and evening programs.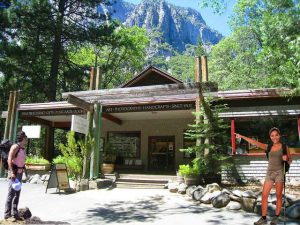 The Ansel Adams Gallery  offers work of Ansel Adams, contemporary photographers, and other fine artists. In addition, a wide selection of handcrafts, books, gifts, and photography supplies is available. The Gallery, formerly known as Best's Studio, has been operating in the park since 1902.
9. Sentinel Dome Hiking Trail: This 2.2 miles (3.5 km) round trip, is an exciting loop leading to Sentinel Dome, a magnificent rock towering at 8,100 feet (2,470 meters) high and offering 360-degree-panorama overlooking all the Yosemite Valley and outlying area. You can also picture the famous fallen Jeffrey pine tree that became an icon for photographers. Taft Point and Tioga road attractions can be accessed from this same mountain road.
10. Hetch Hetchy: You may also visit Hetch Hetchy Valley, a reservoir in Yosemite National Park located on the Tuolumne River. John Muir called this picturesque valley as the 'Second Yosemite Valley'. In Hetch Hetchy Valley, you can admire handsome waterfalls and the impressive O'Shaughnessy Dam which was founded in 1913 to supply San Francisco Bay Area with water.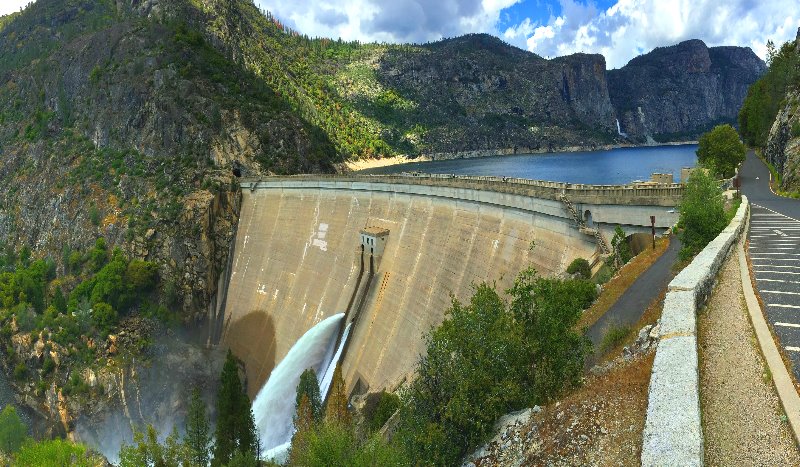 If you decide to drive to Hetch Hetchy Reservoir from Yosemite Valley or Groveland , be prepared for it's a 40-mile (1.5 hour) scenic but a very steep drive.
Tip: Before visiting Yosemite, please check the park website https://www.nps.gov/yose/planyourvisit/index.htm to learn more about the park and road conditions and closure.