Visiting the Yosemite National Park in Winter is a Revelation!
Yosemite in Winter

Winter Tours
Winter Adventure

Winter Trips
Our Yosemite Winter Tour Highlights
Visiting the Yosemite in Winter is a Revelation:
Marvel at the Yosemite Wonders under snowfalls
Picture the Waterfalls turning into icicles & floes
Admire the contrast between the red Sequoias and white snow
Picture Half Dome and El Capitan covered in snow
Drive via picturesque meadows along the Merced River
See Central Valley: "the Fruit Basket of the World"
The Gold Country and Sierra Nevada Wonders
Altamont Pass wind farm and much more
Best Private Custom Tours to the Yosemite National Park
"Everybody needs beauty as well as bread...the Yosemite is the grandest special temple of nature
I was ever permitted to enter"
~ John Muir~

Fully Escorted and Guided Private and Semi-Private Winter
Adventures to the Yosemite National Park
Tour Description: Whether you are nature lovers, photographers, couples, friends, family with or without kids, this private winter adventure will be customized to your travel needs so we meet your expectations. No hassle and no worry at all about walking, hiking, elevation or snow piling up along the Yosemite mountain roads, our 4X4 SUV tour will go wherever you want to go and stop for photographs anywhere you want. Our Yosemite National Park passionate tour guides are experts and possess the required experience, knowledge, and understanding to accommodate your tour needs pertaining to your desired travel itineraries, preferred departure and arrival time. Our tour guides are all multitasking drivers, entertainers, photographers and know very well the back roads and hidden overlooks within the Yosemite National Park. We have led photography custom tours to the Yosemite with famous photographers and do know every turn and hidden natural wonder of the Yosemite high country and Yosemite Valley.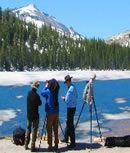 Our Yosemite winter tour is daily available in winter and spring leaving and returning to San Francisco. We also offer a complimentary pick-ups and drop offs anywhere between San Francisco Bay Area and the Yosemite National Park including the outlying area within Central Valley. For VIP tours, you may simply fly with your own jet to Mariposa County Airport or to any other local airports you may choose, and we will take care of the rest.
Why visiting the Yosemite National Park in winter? Visiting the Yosemite National Park in winter can be a revelation thanks to the unparalleled and unspoiled beauty of the Yosemite geology, fauna and flora. The majesty of the Yosemite National Park wilderness is absolutely marvelous and priceless. The Yosemite in winter looks primitive, dramatic and wild. Every meadow and grove within the Yosemite Park make a fantastic snapshot. Let our tour guide take you to the right spot and exposure to capture the Yosemite waterfalls and cascades dropping down from hanging cliffs where the sun breaks through the trees, lands on the waterfalls and create a rainbow at the base of these magnificent waterfalls. The picturesque meadows and high country sceneries of the Yosemite wilderness in winter are dramatic, primitive and spectacular in a unique way that takes visitors breath away but available only in the Yosemite and particularly in winter.
In winter, our 4X4 SUV tour will take you to spectacular off the beaten path sites where other ground transportation can't go including a side trip to one of the Giant Sequoias Groves of the Sierra Nevada. In winter, the Yosemite Giant Sequoias reddish barks contrast sharply with the white trees and snow blanket on the ground. The Yosemite Valley itself is a temple of an amazing concentration of natural wonders unviable elsewhere in the world!
In winter, wildlife watching is a pleasant hobby, where the lucky visitors who can make it all the way up to the Yosemite National Park can picture mule deer digging holes through the snow to reach the buried grass. Bobcats, foxes and coyotes can be seen on lower elevation looking for a fresh meal. Bears spend the winter in hibernation but thy start come out late winter and early spring. The Yosemite flora and fauna in winter is simply something unique to be experienced!






Prices of our Yosemite Winter Adventures by 4 x 4 SUVs:

Guaranteed departure even with 2 persons as a private tour or 3 people minimum as a semi-private tour
| Our Private and Semi-Private Tour Prices The Price per person | Semi-Private Tour Prices. The price is per person (sharing the SUV) | Totally Private – The Price is per person | Tax, Park entrance fees, 12 to 14 hour SUV Private Tour all included |
| --- | --- | --- | --- |
| 1 person | $299.00 | $479.00 | Included |
| 2 persons | $299.00 | $479.00 | Included |
| 3 persons | $299.00 | $329.00 | Included |
| 4 persons | $239.00 | $279.00 | Included |
| 5 persons | $199.00 | $239.00 | Included |
| 6 persons | $189.00 | $209.00 | Included |
| 7 persons | $179.00 | $179.00 | Included |
Note:
3 people minimum are required to run our Semi- Private SUV Tour and 2 people minimum only are required to run our Private SUV Tour to the Yosemite in winter.
PLEASE NOTE the above decreased and discounted prices regarding the semi-private tour option are based on the number of participants in your own party on these Semi-Private tours and Not based on the number of participants who will be sharing the SUV with you. No discount or refund will apply when sharing the SUV or the VAN with other parties or travelers who may sign up for the same semi-private tour. By booking a semi-private SUV or VAN tour, you agree to share the required vehicle with other customers. Also you understand that this semi-private guided tour might be narrated in two or more foreign languages in addition to English.
Nevertheless, we guarantee your tour even if no other participants sign up for that tour as long as the minimum number of participants is acquired, when signing up for a semi-private tour.
You may wish to consider our Private Tour if you need more privacy, comfort and flexibility and do not wish to share the SUV tour with other customers.
** Included **
Complimentary Pick up and drop off + Park admission fees are included
Visit the Yosemite National Park Valley Floor, Tunnel View, Merced River and a hike to one of Giant Sequoias groves as long as the trail is safe and accessible.
No overtime charges will apply so you enjoy the Yosemite Park wonders in-depth.
12 to 14 hour fully escorted and guided tour by multilingual certified and passionate tour guides
Optional side trips may include visiting a Gold Mining Town or any other attraction or monument
Top of line SUVs loaded and equipped with PA Microphones system, DVD players, educational and entertainment movies, video games, movies for kids and much more...
Our tour guide often offer customers soft drinks on the to the Yosemite
This tour is often available in French, Italian, Spanish, Japanese and German for no extra charge!
Not included:
Meals and tour guide's gratuity.
**Note** : For safety consideration and due to heavy snow, the hike to the sequoias in winter is optional and not recommended.

How To Book Your Tour?








You can secure your reservation directly through our secure reservation page (click here) and then once on that page, please scroll down to "Step 1-Tour Information" and select your Yosemite Private or Semi-Private SUV winter tour from the drop down. Then, please fill out your credit card information under section "Step 2-Cardholder Information".
Please check the email you used on our reservation form to get our merchant receipt, generated ONLY when transactions are approved! We will also send you a tour voucher confirming your tour, date and pick up time, if your transaction is approved and this will also be based on our Yosemite tour availabilities. However, We will fully refund your transaction if the required tour or date is not available or offer you alternative tours or dates.
Prices for our Yosemite Winter Tours by Van
By Van
| Tour Prices: | Regular price per person | Online Discount | Online price per person |
| --- | --- | --- | --- |
| 1 to 5 Guest | $189.00 | $20.00 | $169.00 |
| 6 to 10 Guest | $169.00 | $20.00 | $149.00 |
| 11 to 14 Guest | $159.00 | $20.00 | $139.00 |
| Charter | totally private | 1 to 6 persons | $1299.00 |
| Charter | totally private | 7 to 14 persons | $1,899.00 |
** NOTE **
5 People minimum are required to run this tour per each single reservation or 100% As described above. Please note that this van tour is available as a private or as a semi-private tour. We do require 5 persons minimum in your own party and per reservation in order to run this tour. In other words, this Yosemite van tour is not available for individual reservations as we are specialized in providing high quality private and semi-private tours.
**Note** : For safety consideration and due to heavy snow, the hike to the sequoias in winter is optional and not recommended.
By Bus:
For all groups of 14 people or more and for all bus charter tours to the Yosemite from San Francisco , Please
contact us
or send us a
TRAVEL REQUEST
so we assist you in the best way.
Yosemite National Park Four Seasons Videos
Yosemite National Park Winter Tour Videos
Yosemite National Park Maps by Yosemite Private Tours